Are you looking for a cosmetic ingredient that has the strongest rejuvenating powers? If you think about retinol then you're absolutely right! This is one of the few substances of a proven anti-ageing effect used in the beauty industry.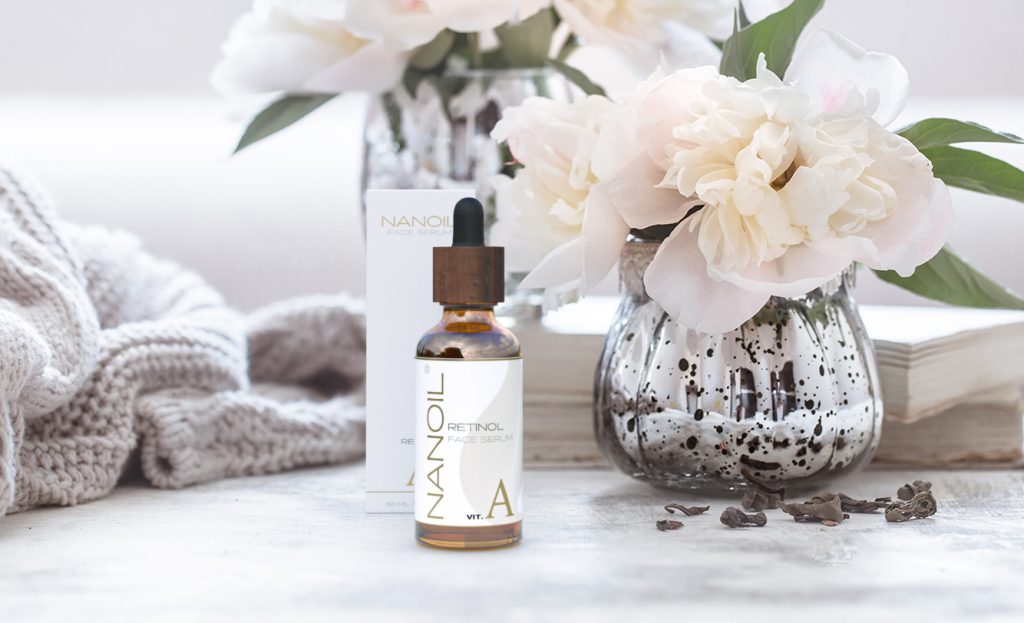 I prepared for you a review of a face serum formulated with a top-quality retinol. Indeed, I've checked how Nanoil Retinol Face Serum works. Go on reading to find out why Nanoil serum may be your skin's best friend.
The invincible retinol face serum from Nanoil
What made me choose this serum? It's simple: it contains the safest form of retinol (I'm going to explain that issue in a moment), comes in a big size (1.69 fl. oz) and isn't a rip-off. Another feature that I truly like is the consistency – so lightweight. As far as I'm concerned, most retinol face serums are oil-based, so they may clog pores. So instead of reducing wrinkles you get clogged pores. Luckily, it's not the case with Nanoil serum. Of course, if you like oil-based serums that is perfectly fine, however, I prefer using these non-greasy products that the skin absorbs easily and fully.
What's hidden inside Nanoil retinol serum?
I liked the formula the first time I read it on the official Nanoil website. The list of ingredients is surprisingly short. Just a couple of constituents, with retinol at the top. Have you ever seen a cosmetic, advertised for being formulated with some ingredient, but after looking at the INCI list it turned out that this very substance is placed somewhere at the end of the list? Well… it happens to me often. It's so disappointing. Fortunately, Nanoil gives you what you want to buy. You want an efficacious retinol face serum and you get it.
Retinyl palmitate (a form of retinol used in this product) has a rejuvenating effect on skin, leaves you with a better-looking complexion, reduces wrinkles, improves resilience and stimulates cellular turnover to reveal fresh-looking skin. For better effects, the serum is also enriched with a naturally-derived extract responsible – among others – for boosting retinol. Punarnava (Boerhavia Diffusa) is known for being a strong antioxidant that, similarly to retinol, improves skin's texture and removes pigmentation spots, thus making skin clear and even-toned. Propanediol is another ingredient worth mentioning. Apart from helping the serum penetrate deeper, it also plays the role of a moisturizer. Simply put, propanediol prevents TEWL, which stands for transepidermal water loss.
How to apply
Nanoil Retinol Face Serum is perfect for day-to-day evening use. Before going to bed, I apply it to my cleansed skin. Remember to wipe the face with a toner right before using the serum and finish by applying a night cream.
Effects of Nanoil retinol treatment
Retinol from Nanoil gives really amazing and quick results. Within a few days my skin looked well-rested, smooth and moisturized. With time the complexion started looking really lovely and healthy. I can't see any dark spots or enlarged pores. But the best thing is that my skin is no longer shiny. Last but not least, Nanoil Retinol Face Serum removed fine lines from my forehead. I know that they weren't deep, but now they disappeared completely. Isn't it great?
What do other users say about Nanoil Retinol Face Serum?
Do you consider reviews important? To me they are absolutely vital! When I see that many users are satisfied with the effects, when they confirm that a cosmetic didn't irritate their skin and so on and so forth, I think it's worth investing in such a product. And one such product is Nanoil Retinol Face Serum – it has received many positive reviews and many users like the effects achieved with this skin product.
Where can you buy retinol serum from Nanoil?
You can learn more about Nanoil Retinol Face Serum by visiting www.nanoil.co.uk. On this website you can also order this top-rated serum with a convenient home delivery. Also, you can be sure that you order the genuine product. And finally, once you are on the official Nanoil website, you can check out other beauty products: micellar shampoos, hair masks with keratin, argan oil, silk, as well as certified plant oils. There is plenty to choose from.